Albany CrossFit – Albany CrossFit: WOD – (Be)tter
🏋🏼‍♂️ STRENGTH
15 Min. Time Cap at each station.
A: Front Squat
B: Snatch
C: Clean and Jerk
D: The Bulgarian Total (Total Weight)
Front Squat (1 Rep Max)
Snatch (1 Rep Max)
Clean and Jerk (1 Rep Max)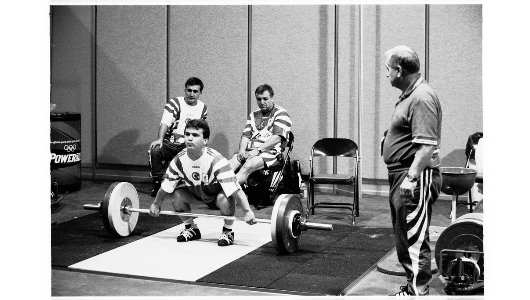 Ivan Abadjiev coaching Naim Süleymanoğlu.
📜 Barbell History
Ivan Abadjiev became the head national coach for the Bulgarian weightlifting team in 1969. Under Abadjiev's command the country improved from one that produced mediocre results to a powerhouse that frequently challenged the then U.S.S.R. for gold medals throughout the 70's and 80's.
Part of what led to Bulgaria's success was the implementation of Abadjiev's revolutionary training system now commonly referred to as "The Bulgarian Method."
Abadjiev's training system is sports specific and based around only 5 exercises: snatch, clean and jerk, front squat, power snatch, and power clean and jerk. Lifters would go to maximum on these exercises several times per day—seven days per week—throughout the year. This is unique from traditional eastern European training systems that used upwards of 50 special exercises many being trained with higher repetitions, sub-maximal weights, and were structured into organized phases throughout the year.
When injured, and unable to do the competition lifts, Bulgarian athletes maxed out on back squats, deadlifts, and/or presses using a range of repetitions from 1 to 10 several times per day…everyday. It is unknown if this was for punishment ("encouragement" to get back to lifting) or for rehabilitation. The overall program was tailored to those anatomically, physiologically, and psychologically suited for weightlifting and this demanding type of training.
In the end, Abadjiev and his training system produced 12 Olympic champions, 57 world champions, and 64 European champions. Many world records were also set by now legendary weightlifters such as "Pocket Hercules" Naim Süleymanoğlu, Galabin Boevski, Ivan Ivanov, and Stefan Botev.