Albany CrossFit – Albany CrossFit: WOD – (Be)tter
Skills Practice
Metcon (No Measure)
3 Rounds of:

:30 Turkish Get-Up Sit-Up (Right)

Rest :15

:30 Turkish Get-Up Sit-Up (Left)

Rest :15

:30 Alternating Pistols

Rest :15
[Scaling]:

You choose the DB or KB weight. Scale Pistols to something that allows the non-working leg to be straight.
Conditioning
JBO (AMRAP – Rounds and Reps)
28 Min. AMRAP of:

9 Overhead Squats (115/75)

1 Seated Legless Rope Climb (15′)

12 Bench Press (115/75)
[Scale 1]:

Barbell Weight (95/65)

1 Legless or Regular Rope Climb (10 to 15′)
[Scale 2]:

Barbell Weight (45/35)

1 Rope Get-Up
U.S. Army Staff Sgt. Jeremie "JBo" "Bubba" Border, 28, of Mesquite, Texas, assigned to the 1st Battalion, 1st Special Forces Group (Airborne), based in Torii Station, Okinawa, Japan, died Sept. 1, 2012, in Batur Village, Afghanistan, from wounds suffered when enemy forces attacked his unit with small-arms fire. He is survived by his parents, Mary Border and Robert Harris; sisters, DeLaynie Peek, Katie Border, Ashley Harris and Amanda Pereira; nephews, Robbie and Kayden Pereira; and brothers-in-law, Jason Peek and Roberto Pereira.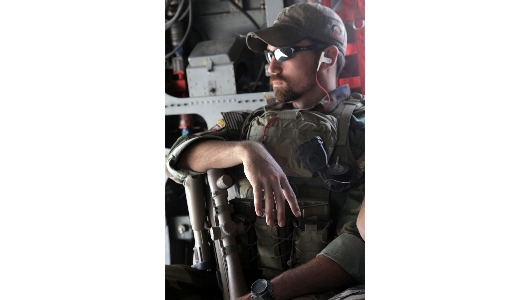 ROMWOD & CHILL
Hold the following poses and stretches for the specified times.
Focus on your breathing and relax.
2 Min. Twisted Lizard Pose / Side